Centralized Receivables Service
The Centralized Receivables Service (CRS) is service provided for federal agencies to assist them in managing accounts receivable. Treasury's goal is to provide a service that increases collections on current receivables, which contributes to the reduction of delinquent debt.
CRS is focused on managing pre-delinquent debt and debt in the early stages of delinquency before it is eligible for Debt Management Services (DMS) referral. CRS also focuses on leveraging Treasury's provision of collection and reporting services, specifically Pay.gov and Collections Information Repository (CIR), formerly the Transaction Reporting System (TRS). CRS services are provided by a financial agent using state-of-the-art collection practices, which integrate with existing complementary operations in Fiscal Service for complete and efficient program management and oversight.
CRS will facilitate the seamless transfer of eligible delinquent debt to DMS for Cross-Servicing as required under the Debt Collection Improvement Act of 1996 (DCIA).
What Are the Benefits?
Compliance — Compliance with Federal Claims Collection Standards and Treasury laws and guidance with standard, yet flexible, workflow design
Transparency — Improved data quality and visibility in the CRS application for agency users
Increased Collections — Prompt invoicing, follow-up and access to electronic options facilitates collections
Reduced Costs — Standardized services in a highly automated business environment drive down costs for efficiencies of scale
Business Process Modeling — Maps an agency's pre-CRS process, later identifying areas of efficiency and compliance.
For more information on the program and participation, please visit the CRS Contacts page.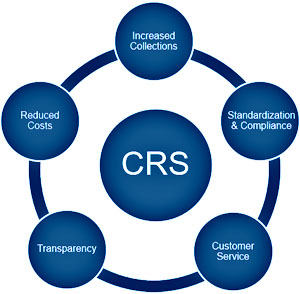 Do You Owe a Debt?
If you received an invoice or past-due notice and are looking to pay the debt or contact a representative about your debt, please review your invoice or notice. It contains payment options, instructions, and specific contact information that are not included on this site.
Need Help?
Do You Owe a Debt?
Check your invoice or past-due notice for contact information.
Agency Customers
CRSLiaisonGroup@fiscal.treasury.gov
FAQs
Frequently asked questions
Looking for Additional Legal Authorities?
CRS is one of several debt collection programs offered by the Bureau of the Fiscal Service. Various public laws, statutes, and executive orders govern all of these programs. To learn about these legal authorities, visit Debt Management Services.