About CRS
The Centralized Receivables Service (CRS) is focused on managing pre-delinquent debt and debt in the early stages of delinquency before it is referred to Debt Management.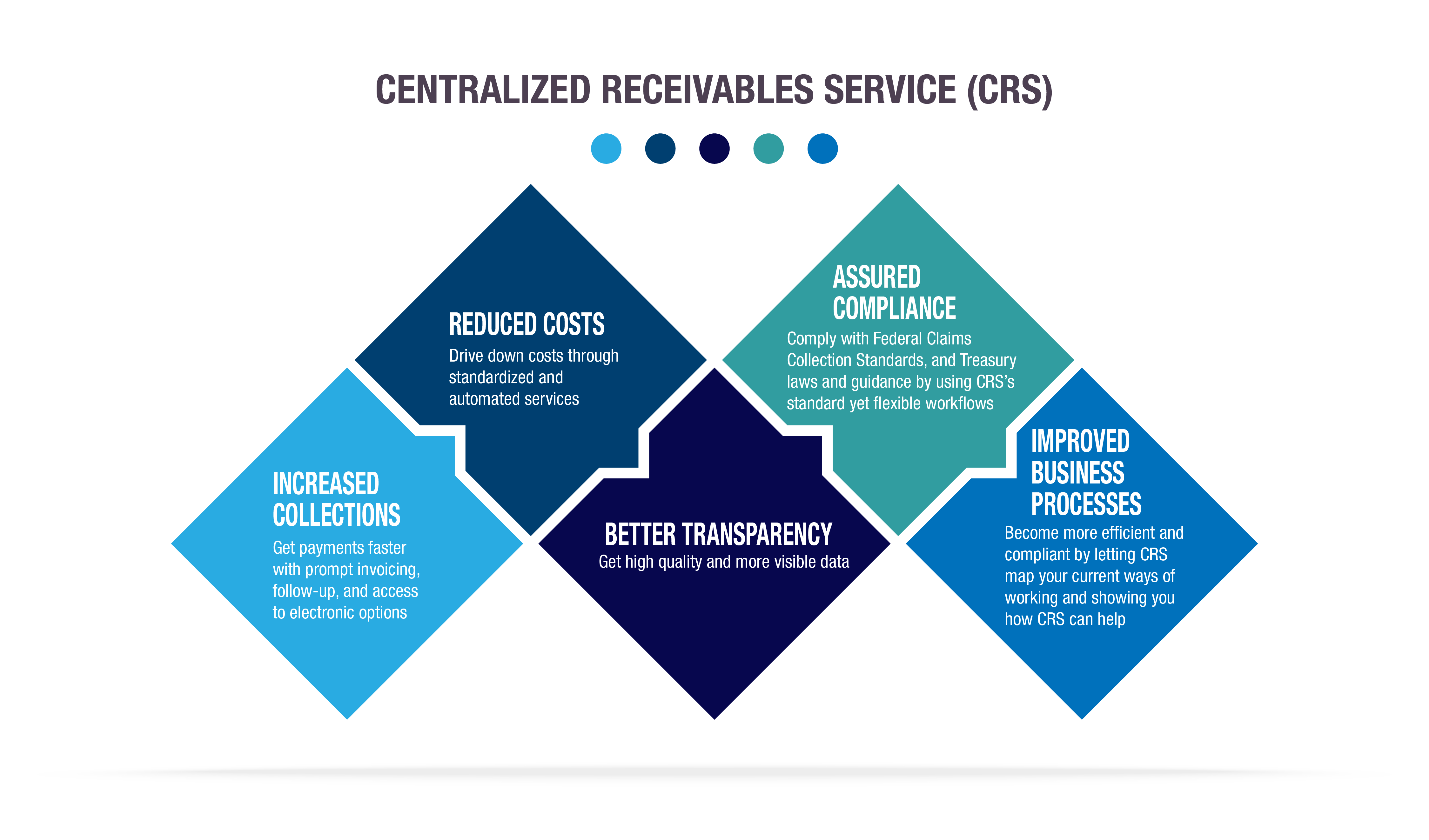 CRS also focuses on leveraging Treasury's provision of collection and reporting services, specifically Pay.gov and the Collections Information Repository (CIR), formerly the Transaction Reporting System (TRS).
CRS services are provided by a financial agent using state-of-the-art collection practices, which integrate with existing complementary operations in Fiscal Service for complete and efficient program management and oversight.
CRS will facilitate the seamless transfer of eligible delinquent debt to Cross-Servicing as required under the Debt Collection Improvement Act of 1996 (DCIA).
How Does CRS Work?
CRS services receivables from the point at which they are established in CRS by the agency until they are paid, referred to Treasury's Cross-Servicing program for centralized debt collection services, or otherwise resolved. CRS delivers benefits through a number of features along the receivables lifecycle process:
Configurable parameters allow agencies to define servicing business rules such as payment options
New receivables are entered via the on-line portal or batch file transfer. Agencies have on-line access to the CRS application via the Internet to view case activity and generate reports
CRS generates and mails invoices, related documents and delinquency notices as needed
CRS handles all returned mail and inbound and outbound phone calls
CRS accrues late payment interest and penalties, calls debtors, resolves issues and processes electronic payments over the phone
CRS transfers eligible delinquent debt to the Treasury's Cross-Servicing program for collection
CRS can set up and service payment arrangement plans with debtors
Goals & Objectives for Agencies
The goals of the CRS Program are to collect sufficient data to determine if it is in the best interests of the federal government to permanently establish a centralized receivables service and how such a service should be structured and delivered. The program will be designed to determine if the CRS can achieve the following objectives:
Improve management of current receivables, which reduces the percentage of receivables going delinquent.
Refer receivables to Cross-Servicing at the earliest possible date.
Track agency satisfaction. (CRS became a program October 1, 2017)
Promote the government wide all-electronic initiative (Non-Tax Paperless Initiative).
Establish standardized and automated processes for the pre-delinquent servicing of receivables.
Integrate and streamline CRS processes into the existing, complementary Fiscal Service operational and financial management tools.
Set up and provide active servicing of receivables from case creation to transfer to Cross-Servicing.
Develop a deeper understanding of federal receivables management to support improved policies and processes.