Make a Payment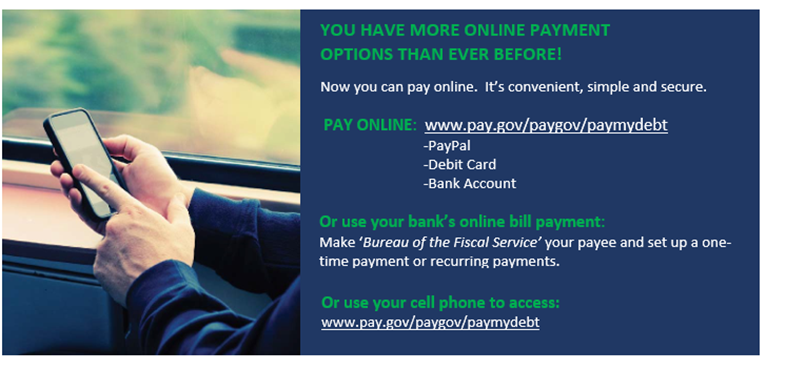 At Pay.gov Online:
Complete the form.
Enter payment information. (Accepted payment methods: PayPal, Bank Account, or Debit Card)
Review and submit payment.
Proceed to confirmation.
At Your Bank Online:
Go to your bank online and sign in. If you have not set up an online account for your bank, first set up an online account, and then sign in.
Follow the instructions for bill pay.
Depending on your bank's portal, go to the area labeled "bill pay" in your online banking portal or something similar.
Select a payee for your bill with "add payee" by searching for Bureau of Fiscal Service. If you cannot find it, enter it manually and the payee information.
Enter your account number or payment agreement number as it appears on your bill or letter and confirm it.
Enter the payee address (where you would mail your payments) from your bill.
Hit save.
Enter the payment information, amount, payment date, and whether you want the payment to be recurring.
Hit save.
If you want to make any changes to your payment(s) later, go to manage bill pay in your bill pay area. It will display your history of payments and where you can add or delete a payee. Make your changes there and hit save.
On Your Phone:
Access www.pay.gov/paygov/paymydebt via your mobile phone
Select "Continue to the Form"
Enter your information on the form. Enter your account number(s) or payment agreement number to ensure timely processing to your account.
Choose your payment method and enter your payment information.
Review and submit your payment.
Set up payment reminders by selecting the "Manage Reminders" option. Create a reminder there.
Hit the "Contact Us" button if you need to communicate with us or have any questions.