What is the Treasury Offset Program?
The Treasury Offset Program is a centralized offset program, administered by the Bureau of the Fiscal Service's Debt Management Services (DMS), to collect delinquent debts owed to federal agencies and states (including past-due child support), in accordance with 26 U.S.C. § 6402(d) (collection of debts owed to federal agencies), 31 U.S.C. § 3720A (reduction of tax refund by amount of the debts), and other applicable laws.
How TOP Works
Fiscal Service disburses federal payments, such as federal tax refunds, for agencies making federal payments (known as "payment agencies"), such as the Internal Revenue Service. "Creditor agencies," such as the Department of Education, submit delinquent debts to the Fiscal Service for collection and inclusion in TOP and certify that such debts qualify for collection by offset (the reduction or withholding of a payment).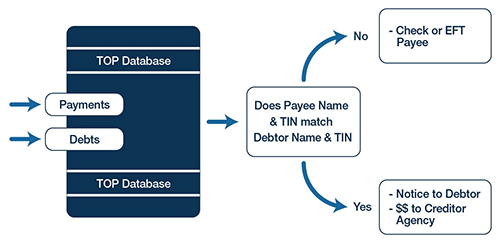 Payment agencies prepare and certify payment vouchers to Fiscal Service and disbursing officials at other federal agencies that are non-Treasury disbursed (such as the Department of Defense), who then disburse payments. The payment vouchers contain information about the payment including the Tax Identification Number (TIN) and name of the recipient.
Before an eligible federal payment is disbursed to a payee, disbursing officials compare the payment information with debtor information, which has been supplied by the creditor agency, in Fiscal Service's delinquent debtor database. If the payee's TIN and name match the TIN and name of a debtor, the disbursing official offsets (withholds) the payment, in whole or in part, to satisfy the debt, to the extent legally allowed.
Fiscal Service transmits amounts collected through offset to the appropriate creditor agencies. Fiscal Service maintains information about the delinquent debt in the TOP delinquent debtor database and continues to offset eligible federal payments until the creditor agency suspends or terminates debt collection or offset activity for the debt.
A creditor agency will suspend collection if the debt is subject to a bankruptcy stay or if other reasons justify suspension. A creditor agency will terminate collection of a debt if it is paid in full, compromised, discharged, or if other reasons justify termination.
Legal Authority
The federal government's administrative debt collection activities are governed by a number of federal laws. Fiscal Service, as the central disbursing agency of the federal government is required to perform such offset pursuant to 31 U.S.C. § 3716(c).
Other applicable legal authorities for TOP can be viewed in the TOP Legal Authorities Quick Reference. Or, view public laws, statutes, and executive orders that govern all debt collection programs in the Debt Management Services section.
Rules, Requirements and Exceptions
Summary of TOP's Rules and Requirements
Fiscal Service's Summary of TOP's Program Rules and Requirements explains the general rules applicable to TOP, due process prerequisites, offset amounts (percent of payments that may be offset by debt type) and TOP payment exemptions.
Exemption of Classes of Federal Payments from the Treasury Offset Program
Treasury Financial Manual Chapter 6200
Payments Exempt from Offset by Disbursing Officials
TOP Payment Exemption Chart