Computer Requirements
In order to better protect your agency's financial transactions, ASAP.gov updated its minimum computer and internet browser requirements.
ASAP.gov no longer supports Transport Layer Security (TLS) 1.0 and 1.1. As a result, your computers need to use an operating system and internet browser that supports TLS 1.2.
Table may scroll on smaller screens 
| Software | Supported | Unsupported (not able to use ASAP.gov) |
| --- | --- | --- |
| Operating System | Windows 7 and above | Windows XP or Vista, Macintosh, or Linux systems |
| Internet Browser | Browsers that support TLS 1.2 | Internet Explorer version 7 or below |
Security Setting
Required: Transport Layer Security (TLS) 1.2
To better protect your financial transactions, ASAP no longer supports TLS 1.0 or 1.1.
Both federal agencies and recipient organizations must make sure that their internet browsers support and are set for TLS 1.2.
The instructions below show you (or your IT staff) how to select TLS 1.2 in each browser.
(Agencies: Help your recipient organizations adjust their browser settings with these instructions.)
Select [Tools] from the menu bar
Select [Internet Options]
Click on the [Advanced] tab.
Scroll down and determine if the "Use TLS v 1.0", "Use TLS v 1.1", and "Use TLS v 1.2" boxes are selected. If they are not selected, select them. This ensures your browser is able to use the most secure connection for ASAP.gov.
If you are unable to modify these settings, please contact your IT Support for assistance
Type "about:config" into the address bar
Search for "security.tls.version.min"
Double-Click on security.tls.version.min
Enter the number one in the Enter Integer Value box
Click OK
Search for "security.tls.version.max"
Double Click on security.tls.version.max
Enter the number 3 in the Enter integer value box
Click OK
When finished, confirm your setting are similar to the following graphic. This ensures your browser is able to use the most secure connection for ASAP.gov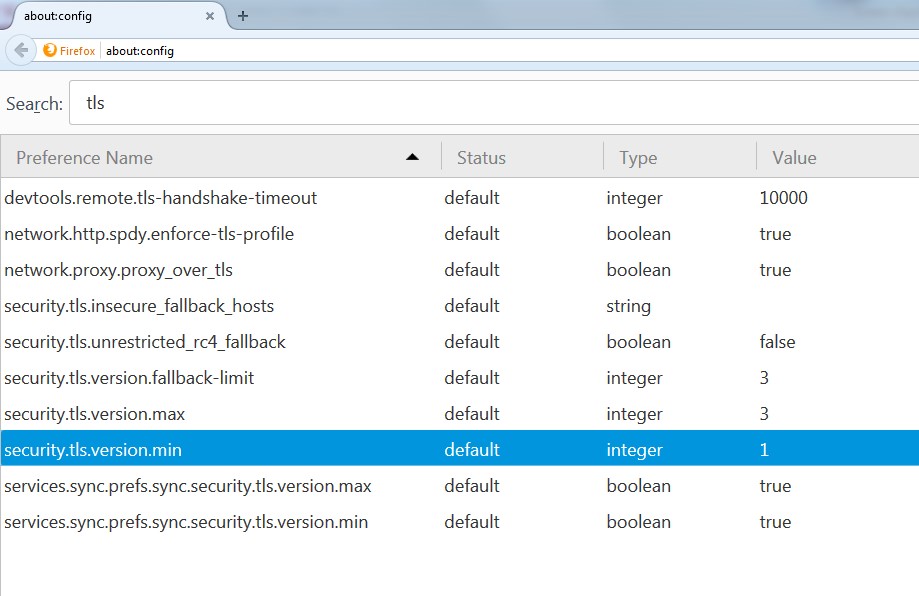 Click the Menu button
Click Settings
Click Show advanced stings
Click Change proxy settings
Click on Advanced
Ensure that the boxes for security.tls.version.min "Use TLS 1.0", "Use TLS 1.1", "Use TLS 1.2" are checked. If they are not selected, select them. This ensures your browser is able to use the most secure connection for ASAP.gov.
Click Apply
If you are unable to modify these settings so they match the graphic below, please contact your IT Support for assistance
Contact the ASAP team
1-855-868-0151,
(option 2, option 3)

asaphelpdesk@fiscal.treasury.gov
Mon. – Fri. (except federal holidays), 8:00 a.m. – 9:00 p.m., Eastern time
We try to respond to
phone calls within 2 hours
email within 1 day