Electronic Verification of Vital Events Fact of Death (EVVE FOD) Agency Partnership Event
Federal employees
Online
---
Tuesday, October 19, 2021 | 1:00 pm – 2:00 pm ET

---
Free
---
Hosted by:
Payment Integrity Center of Excellence (PICOE)
---
Point of Contact:
PICOE. Outreach@fiscal.treasury.gov
Event Details: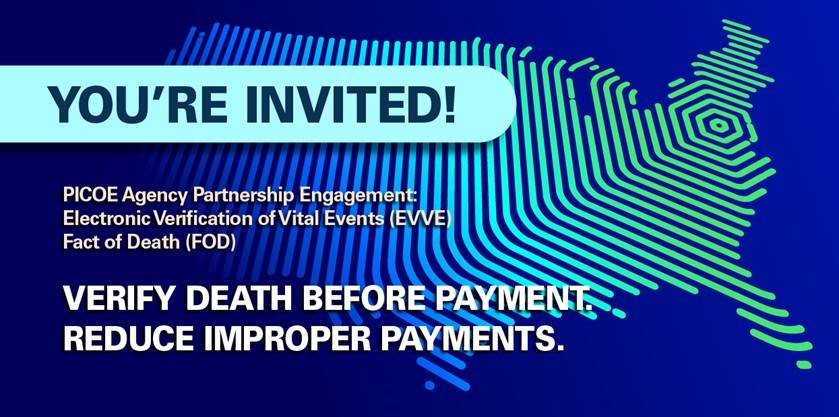 Agencies often experience delayed awareness when a payee is deceased. Once they are informed, they are involved in a complicated and time-consuming process where they are required to provide confirmation that a payee is deceased through multiple data sources. Those death verification processes can be cumbersome for agencies who would rather dedicate their resources to focusing on their mission.
Death verification can be simplified using the Electronic Verification of Vital Events Fact of Death programs, otherwise known as EVVE FOD. EVVE FOD is a service offered by the National Association for Public Health Statistics and Information Systems (NAPHSIS). It provides a connection to query the death record databases of vital records offices across the United States.
The use of EVVE FOD offers increased efficiencies such as reductions to timeline of payee death confirmation, monetary losses, resource costs of exception processing, decedent verification workload and provides automated action to prevent and recover improper payments. Most notably, EVVE provides a second authoritative/confirmative source of death for payees.
Who We Are:
The Payment Integrity Center of Excellence (PICOE) is excited to share ways we use AVS to verify and authenticate payees' bank accounts to minimize improper payments. PICOE is integrating AVS with cross-government post-payment data to provide agencies with comprehensive data views so they can make the best possible payment related decisions.
PICOE is a community of experts within the Bureau of the Fiscal Service responsible for assisting agencies in reducing improper payments and dedicated to solving government-wide payment integrity challenges.
PICOE manages a centralized repository of government-wide Federal payments. As a result, PICOE maximizes and shares data with partner Agencies, delivering a holistic view of the payment life cycle. We provide daily support to agencies on ad-hoc data requests/projects, long-term operational projects, training, court testimony, and customizable technology solutions.
Serving as a venue for cross-governmental collaboration, we routinely connect different agencies with each other to solve mutual and often overlapping concerns. We hope this event encourages you to connect with us so that you may benefit from this new Account Verification Service and to discover or revisit our other payment-integrity offerings.
Please register using the form below.
Registration
Registration is now closed for this webinar.