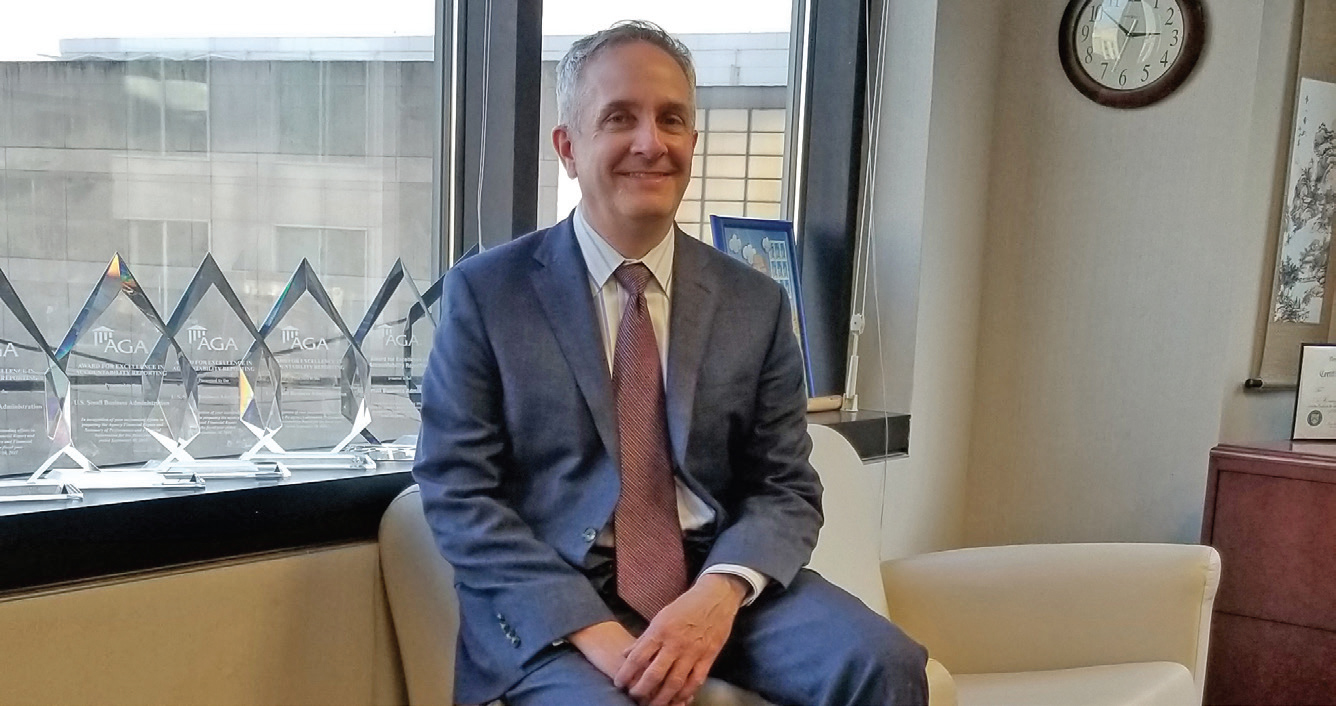 Fiscal Service Welcomes New Commissioner
May 13, 2019
The U.S. Department of the Treasury's Bureau of the Fiscal Service (Fiscal Service) has announced a change in the key leadership with the retirement of Commissioner Kim McCoy and the appointment of Tim Gribben as the next commissioner, effective May 13.
Mr. Gribben comes to the Fiscal Service from the Small Business Administration (SBA), where he served as the chief financial officer (CFO) and was responsible for all aspects of SBA's financial management, performance management and program evaluation. Prior to joining SBA in 2009, Mr. Gribben was a manager at the U.S. Postal Service. Mr. Gribben also spent more than five years at a privately-held technology firm as director of a business unit and two years with J.P. Morgan. Mr. Gribben graduated from the College of William & Mary with a bachelor's degree in accounting, and earned an MBA from Duke University.
"Tim is a respected senior executive in the federal CFO community with more than 20 years of transformational leadership experience," said Assistant Secretary David A. Lebryk. "He is an innovative and forward-thinking leader with proven expertise in using data to measure and improve program performance. As commissioner he will leverage this background and lend his knowledge as a former customer of Fiscal Service's financial management services to shape strategic priorities and drive customer-centric solutions that will benefit the public we serve."
"In my previous role as CFO at SBA, I have been impressed by the talent and energy of Fiscal Service employees and their dedication to improving federal financial management," said Mr. Gribben. "I am both humbled and excited by the opportunity to lead a bureau whose mission impacts every American."
Mr. Gribben succeeds Kim McCoy, who began serving as Fiscal Service Commissioner on May 2, 2018. Prior to this role, she served as the deputy commissioner for the offices of fiscal accounting and shared services, including oversight for the bureau's Administrative Resource Center (ARC). Ms. McCoy joined the Treasury Department in 1992 as a computer specialist. She was appointed to the Senior Executive Service in 2007, serving as the chief information officer.
"Kim has been a leading force in developing a 10-year vision, refining and refocusing the bureau's strategic priorities, and ensuring continued operational excellence," said Mr. Lebryk. "Kim's drive and commitment strengthened the bureau's operations, promoted innovation, and advanced federal financial management across the U.S. government. She will be greatly missed."
The Fiscal Service is responsible for annually issuing trillions of dollars in Treasury securities to finance government operations and account for the resulting public debt; disbursing essential benefit payments including social security and veterans' payments; collecting trillions in federal revenue, including taxes; operating a central debt collection operation; providing government-wide accounting and reporting including the daily and monthly Treasury statements; and providing administrative and information technology services to Federal agencies through shared services.
For more information about the Fiscal Service, please visit www.fiscal.treasury.gov