Financial Management Standards Committee (FMSC)
The Financial Management Standards Committee (FMSC) is a representative decision-making body that sets the direction for and works to improve federal financial management through collaboration, common approaches, and standardization.
The FMSC's mission is to influence standards, systems, and practices to support improved federal financial management performance.
The FMSC functions as the financial management community's platform to discuss financial management needs and develop standardized solutions that promote financial integrity and operational efficiency across government.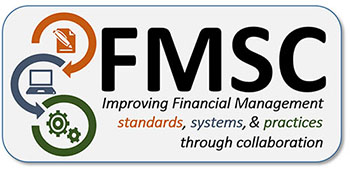 How it Works:
The FMSC is open to and comprised of members from the 24 CFO Council agencies, as well as departments and representatives from the Small Agency Council. The FMSC is managed by the Office of Financial Innovation and Transformation as the Managing Partner of the Financial Management Line of Business.
Acting as the "pulse of the government," the FMSC works to improve federal financial management performance, productivity, and efficiency, through three activities:
Addressing system issues by removing system-driven impediments
Expanding leading FM practices by fostering practices that support superior financial management
Addressing new regulatory guidance by coordinating agencies' approaches to implementing that guidance