Innovation Spotlight: Interview with Tonya Johnson, Deputy Chief Financial Officer, Department of the Interior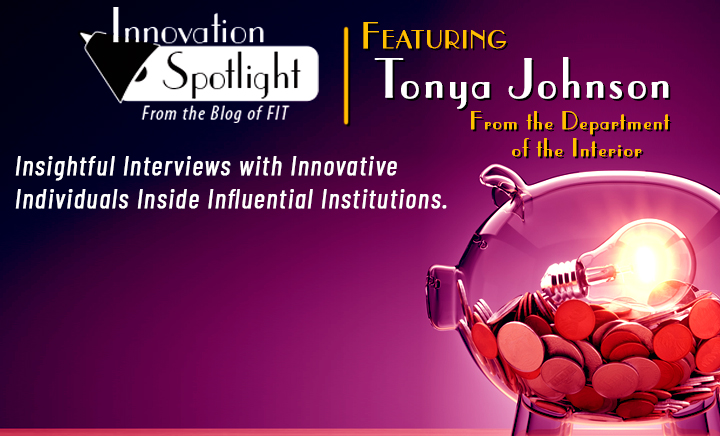 Welcome back to the Spotlight Innovation Series: a series of blog posts aiming to highlight the perspectives of innovative leaders across the Federal Government to the financial management community, inside and outside the federal government. Each month, we sit down with an innovative leader, pick their brain on their transformative experiences, and share those insights with our blog readers.
Tonya Johnson, Deputy Chief Financial Officer, and Director, Office for Financial Management (Department of the Interior) and Executive of Donations and Travel Management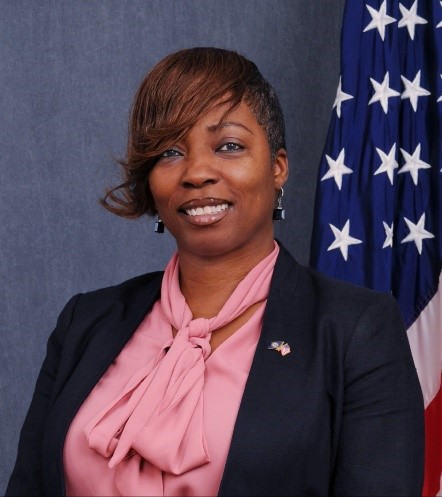 Tonya Johnson serves as the Deputy Chief Financial Officer (DCFO) and Director of the Office of Financial Management for the Department of the Interior (DOI). In these roles, she oversees the management of the financial services of the agencies in DOI, ranging from the Bureau of Land Management to the National Park Service. She also serves as the primary advisor to the Assistant Secretary-Policy Management and Budget, and the Deputy Assistant Secretary for Budget, Finance, Grants & Acquisition. Ms. Johnson has 27 years of experience in the federal government; she has previously served as the Assistant Chief Financial Officer of Financial Services in the Office of Personnel Management (OPM), the Chief of the Financial Reporting and Analysis at OPM, Director of Financial Operations at the National Institute of Food and Agriculture, Lead Staff Accountant at the Federal Highway Administration, and Senior Accountant of Special Programs in the U.S. Air Force.
What is innovation?
When asked what innovation means to her, Tonya jokingly responded, "Anything to make my job easier!" She added more seriously that innovation is a way to use technology for streamlining processes and making our customers' lives (and by extension, our lives) easier. In a jovial mood, she finished her personal definition of innovation as "anything to get rid of paper!"
Why the emphasis on digitization?
A forensic accountant at her roots, Tonya has always focused on following the "paper trail," but is a firm believer that when the trail is digital, not only is it more accessible but it is more useful. "Sometimes," she tells us, "you don't know the data you need until you need it." This belief has shaped much of the innovation for which she can be credited, spanning her entire career across seven different agencies.
This train of thought stems from the influence of her mother, whom Tonya credits as the root of her interest in accounting and data. Tonya's eyes lit up when the topic of data was mentioned, making it apparent how important data is in driving her innovative work. "You have data to be able to innovate" she stated. Continuing with that "it's a lot easier to drill down in electronic data" – and by easier, she means faster, more efficient, more organized. In government, this is especially important given the focus on data-driven decision-making, especially when it comes to funding decisions.
Putting data at the forefront
"How do you prove you need it through data when you can't show the data?" she asks us. Our answering silence is more than enough to prove her point. One of her more recent innovations was creating a Financial Systems and Analytics Team in DOI. This small team of four allowed data to be curated more quickly for different queries. Despite its size, Tonya stresses they were able to do this work by finding the best of the best – both in people and in software - allowing for a high level of success.
Creating this team didn't narrowly benefit Tonya in her role or her office, however. To inspire others, the team produced a DOI Financial Management training that was available to all 70,000 DOI employees, and it was conducted totally virtually. Over 700 people participated in the first training session, which resulted in improved in data literacy and led to a more innovative spirit throughout the DOI. Remember readers- data drives Tonya's innovative style.
Tonya is the driving force behind this increasing spirit of innovation. As the first woman to hold her current position, she brought fresh ideas and changes when she stepped into the role - resulting in innovation at all levels of her organization. At the leadership level, Tonya created an internal DOI Chief Financial Officer Council which regularly meets to discuss innovation across the 11 DOI Bureaus. She has also implemented a suggestion platform for all employees to participate in where ideas for innovation can be screened. The key to the suggestion platform is that all ideas are considered; the review is more a process of deciding the best timeline for implementing the ideas. This environment of innovation, therefore, is spreading to all levels of the agency, which only serves to increase the number of innovations department-wide.
How about new and emerging technologies?
We asked Tonya what sort of solutions she had her eyes on, specifically new and emerging technologies. Once again, she highlighted solutions that make the job more efficient and automating tasks whenever possible. At the top of her list were bots and e-invoicing solutions that could automate financial statements and create a digital "paper trail". This led us to discussing other innovations that she has pursued, and despite only being at DOI for two years, she already had success stories to share. During 2020's year-end close-out, 80% of the targeted undelivered orders were completed by bots (surpassing their target of 75%). The hope is to expand this work even further this year, to maybe include uncollected orders.
Advice for readers
As our time with Tonya ended, we wanted to end with any words of wisdom that she could share with our readers. Tonya was more than open to sharing a few tidbits she had picked along her journey (which she started at a GS-4!) to her current SES position: "If more executives told their stories," she began, "people would not see [the journey] as so difficult." Tonya's words connect to her philosophy on innovation: Don't be afraid to try. Whether you're trying to connect with an executive to ask questions or trying to implement a new technology to fix a problem, at best, you'll have a success story and at worst, you'll have a lesson learned- and both are worth sharing.
We would like to thank Tonya once again for her time and willingness to participate in the FIT Innovation Spotlight Series. We appreciate both her insights and the candidness with which she shared them; we hope everyone reading this was just as enlightened as we were.