Innovation Spotlight: Interview with Tim Gribben, Commissioner, Bureau of the Fiscal Service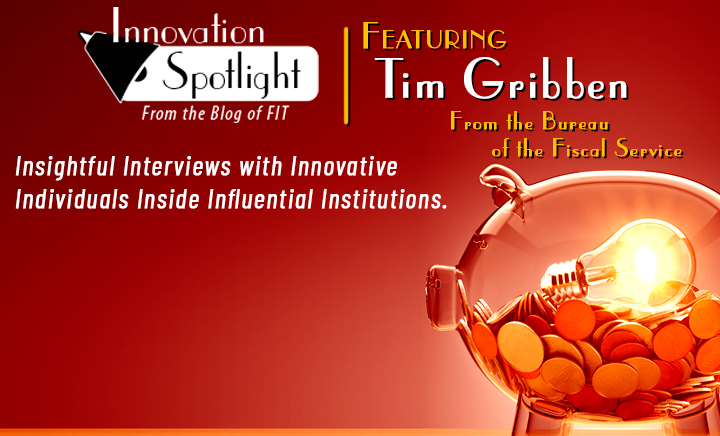 Welcome back to the Spotlight Innovation Series: a series of blog posts aiming to highlight the perspectives of innovative leaders across the Federal Government to the financial management community, inside and outside the federal government. Each week, we sit down with an innovative leader, pick their brain on their transformative experiences, and share those insights with our blog readers.
Timothy E. Gribben, Commissioner of the Bureau of the Fiscal Service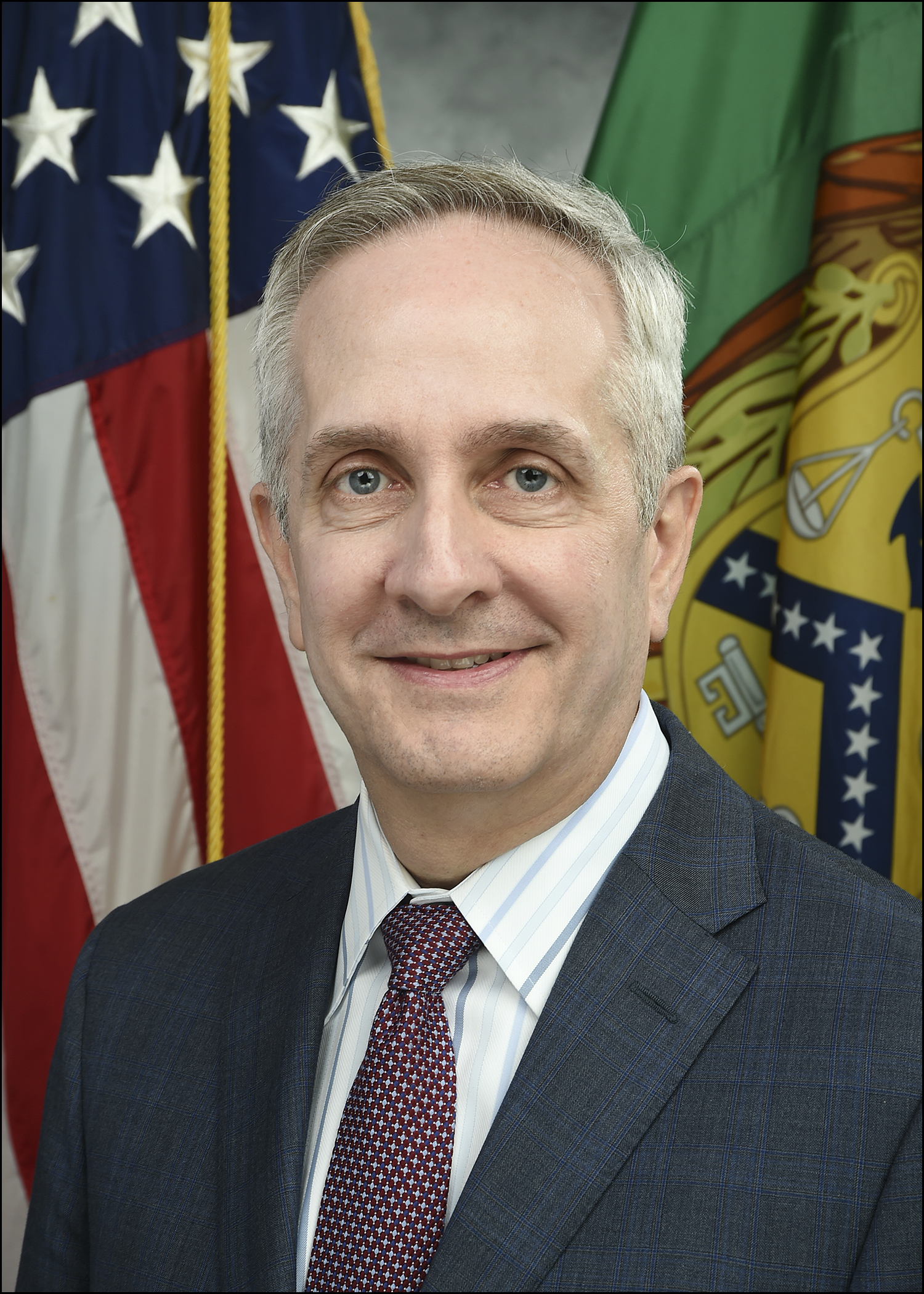 Tim Gribben serves as the Commissioner of the Bureau of the Fiscal Service, where he guides the bureau's work to transform financial management and provide shared services across the federal government. Mr. Gribben has previously served as a Chief Financial Officer and associate administrator at the Small Business Administration (SBA), where he was responsible for SBA's financial management, performance management, internal controls, and acquisition. Before that, Mr. Gribben has served as Deputy Chief Financial Officer and chair of SBA's executive resources board, manager at the U.S. Postal Service, and a collective seven years in the private sector.
What is innovation?
Tim's idea of innovation centered around positive impacts – using ideas, concepts, and technology to take calculated risks to advance towards the future. "It takes proactivity and collaboration to make it happen," Tim said. He stressed that innovation requires a team working together to realize that positive future, not individuals working separately. He also pointed to three questions that he asks that help identify problems and innovative solutions:
What makes my job hard and how could it be made easier?
What could I change about my performance to produce better results?
What am I already doing that could be leveraged in a new way?
Risk and innovation
When asked about balancing risk with innovation, Tim shared an example from his time in the private sector that he cites as an influence on his mindset today. He had worked at a computing company in the 90s and was planning on what was needed for their future software development. "But the engineers looked at the advances in computer technology, and where it was at that point versus where they thought it was going to be in a couple years, and they designed the software to work with the future technology." This was a risk, Tim explained, because the future might not have followed the trajectory envisioned by the engineers. But through a collaborative approach between the business and technology teams, they were able determine it was a risk worth taking. He continued, "As it turns out, it paid off for us, because they envisioned the future correctly, and we were able to do things that our competitors couldn't do - because we designed for future technology, not for existing technology at the time."
Connecting the story to his current position, Tim says "We operate the financial backbone of the federal government. Which means that by definition, we have to be more risk adverse than others, but that doesn't mean we can't take calculated risks - we have to understand what that risk might mean." He suggests that it's about investing in the current state of things and the future simultaneously, working collaboratively towards identifying the different risks of innovation, and developing strategies to mitigate those risks.
Creating a culture of innovation
One of the common challenges with innovation is creating a culture that promotes, advances, and sustains innovation, and Tim is no stranger to fostering this mindset. He views it as important not just because of the benefits of innovation, but also because of what it provides the workforce. "If you have a culture that's embracing innovation, that also helps with the retention and recruitment of employees. Who wouldn't want to work in an environment where you're encouraged to look at things from a new, exciting, and different approach, rather than the same way?" Tim notes that one the Bureau's strengths is its history of operational excellence and resiliency – but to continue that work into the future, embracing new methods while maintaining that level of operational excellence is needed.
The questions Tim posed earlier are part of his vision for change – giving employees the time and tools they need to ask what could be made easier about their job, what they could change, and how they can use existing or new assets to accomplish that change and create innovation. Developing a culture of innovation has to involve employees, Tim says, because "employees are the ones that have the ideas about what is it that we could be doing better or differently."
The importance of messaging
Tim had clearly spent time thinking about the messaging around innovation, and why it's essential for innovation to succeed. As an example, he brought up Robotic Process Automation, or RPA, and its integration into the workforce. With the Bureau being a risk-adverse area, it was important to phrase RPA not as a tool to cut work hours for manual processes, but to ask employees "what is it that's causing you frustration? What is it that you're doing that your dread doing every month?" This approach, paralleling customer-centric methods, led to identifying more processes than the Bureau had resources to solve – a good problem to have, from Tim's perspective, since they could now prioritize the implementation around the most impactful use cases. "We got employees excited about it," he says, "and rather than thinking this is being done to them, we're asking them what they want, and they're telling us 'If you can help me with this, I would like my job better.'"
How about new and emerging technologies?
When asked for new and emerging technologies he's excited about, Tim picked two ongoing projects at the Bureau – blockchain for grants payments and AI (Artificial Intelligence) for appropriation warrants. "For the longest time, I personally struggled with what do we mean by blockchain, and I wasn't sure how it was going to be a game-changer for us. But the pilot blockchain for grants payments that solves a problem with sub-recipient reporting – once a grantee further distributes money, we totally lose sight over that – I had experienced that, so I understand what that means." Tim was also excited about the appropriations warrants project at the Bureau: "how you take unstructured data and apply artificial intelligence to it to turn it into something structured that you could use, and to be able to do that with the production of warrants on unstructured data like an appropriations bill is really exciting to me." Although the blockchain project is in its earlier stages, Tim feels like the time is now for the appropriations warrants pilot, and there's promise in the potential success there that could be leveraged for other kinds of unstructured data.
Advice for readers
Tim neatly captured the themes mentioned across the interview in his final piece of advice. When thinking about taking an idea from inception to reality, he stresses the following three steps. "First, it's the review process, and having a robust review process so that you can debate and refine the ideas. Second is having a mature approval process where you can approve those ideas and build the budgets the resources that are needed to implement it. Third is that you have to be able to have an organization that supports the promotion, the development, and the enhancement: the ongoing, continuous improvement." All three are critical, Tim says, to building a culture of innovation, because "people see that innovation is actually occurring, it's working, and it's embraced."
We would like to thank Tim once again for his time and willingness to participate in the FIT Innovation Spotlight Series. We appreciate his passion for empowering employees and his insight into his vision for the future; we hope everyone reading feels similarly excited.