TFX Updates
Complete!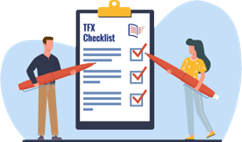 The Bureau of the Fiscal Service is excited to announce that TFX has finished reorganizing the Treasury Financial Manual (TFM) Volumes II-IV content on the TFX website.
The topical views across the top navigation menu on TFX are updated to include two new topics to enhance the organization of TFM Volumes II-IV content.
Users can now access the TFX website as the one-stop shop for all TFM Volumes I-IV chapters through the topical and classic views.
TFX updates finished:
The reorganizing of TFM Volumes II-IV into the topical views.
A new topical view for Federal Reserve Bank Reporting in topical views for Disbursing and Payment Reporting.
A new topical view for Federal Reserve Bank Procedures in topical views for Collections and Revenue Collections.
We encourage you to stay connected by visiting TFX.treasury.gov.
Users can also sign up at join-tfx-mailing-list@lists.fiscal.treasury.gov to join the conversation by participating in user research or being the first to find out when new content and functionality is added.
To provide feedback, please send your comments to TFXFeedback@fiscal.treasury.gov.