Innovation Spotlight: Interview with Stacy Marcott, Deputy Chief Financial Officer, Department of Homeland Security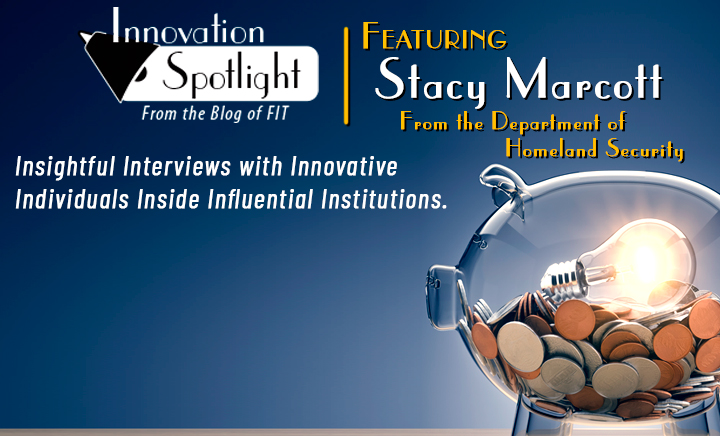 Welcome back to the Spotlight Innovation Series: a series of blog posts aiming to highlight the perspectives of innovative leaders across the Federal Government to the financial management community, inside and outside the federal government. Each month, we sit down with an innovative leader, pick their brain on their transformative experiences, and share those insights with our blog readers.
Stacy Marcott, Deputy Chief Financial Officer, Department of Homeland Security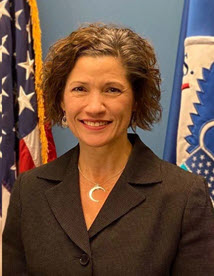 Stacy Marcott has served as the Deputy Chief Financial Officer (DCFO) for the Department of Homeland Security (DHS) since 2012. During this time, she has improved financial and accounting programs across the Department, both by overseeing financial management work and operations for DHS and by advising the short- and long-term financial planning of program goals. Before her position as DCFO, Ms. Marcott served as Senior Advisor to the DHS CFO and DCFO. She joined DHS in 2003 as the Deputy Director of Program Analysis and Evaluation, before which she led the Finance and Resource Management Division for the Naval Nuclear Propulsion Program. Ms. Marcott holds a Bachelor's of Science in Mathematics from the U.S. Naval Academy and a Master's in Engineering Administration from Virginia Tech.
What does innovation mean to you?
"Anything that makes the job easier." DCFO Stacy Marcott further expanded on that point to clarify that not every innovation had to be the newest technology – it could be a new process, or even applying a trusted technology in a different way. It's important to remember, Stacy tells us, "that everything is an evolution" of a past method. That evolution is innovation.
Stacy continued, telling us that innovation, to her, was also "feeling brave enough to try and fail." As a leader in her organization, we were interested to hear more of how she cultivated an environment in which people felt secure enough to fail. Her answer: "Never get mad at failure." She continued to explain that as long as people were genuine in their attempts and giving it their best effort, failure was part of the innovation process. After all, it's equally as important to know what won't work, as it is to know what will.
How does innovation fit into DHS?
As part of a department that is regularly tasked with solving new and unheard-of crises, Stacy believes that people become the most innovative when there is a problem to solve, and they are given the room to craft new solutions. It is this broader organizational culture that she emulates with her own staff, even if it means pushing her staff out the door. Although this may seem counter-intuitive, the logic behind this philosophy is remarkable. As someone who wants only the best and brightest on her team, Stacy believes people can only grow to their full potential with developmental opportunities, often as detail positions and finding new challenges in other offices. It is through this thinking that she believes innovative solutions have bigger results, as it gives smart people the chance to become smarter.
How does the DCFO approach new and emerging technologies?
Understand them enough to be able to implement them when needed, but don't seek out problems that don't exist simply to use the technology.
This doesn't mean that the DCFO shies away from innovation, by any means. When asked to expand on an innovative venture she was proud of, Stacy had a difficult time deciding which innovation to discuss first. For all that she shared with us, it remained clear: Innovation under Stacy not only makes processes easier, but they are driven by people (including herself) that she has encouraged to think outside the box.
An example of this approach to innovation
Stacy shared with us a recent project that saved significant time by simply allowing business lines to share data and information. All business lines, she told us, from procurement to security to information technology – have government lines of reporting that are required. Before its recent transformation, each time a business line needed to know something about another line, it had to do its own data call, which could take weeks to finish, even if the business line of interest already had the data collected. Rather than sticking with an inefficient process that wasted both time and resources that could be allocated to other endeavors, Stacy led an initiative to build an integrated place where data could be shared and stored in a cloud-like system. What previously took weeks to finish can now be finished almost instantaneously – this, again, frees up people to have more time to think (and therefore, innovate), rather than to be stuck on processing tasks.
Advice for new and experienced employees
The DCFO's biggest pieces of advice seemed to be extensions of both her leadership and innovation philosophies. First, Stacy highlighted critical thinking, regardless of where you are in your career: "Be willing to take the initiative," she told us. "Don't wait to be told to do something." As an extension of this, we ended our interview with the following piece of advice, applicable for both career-building and innovation: "Never be afraid to ask 'why.' When you understand 'why,' you can discover a better 'how.'"
We would like to thank Stacy once again for her time and willingness to participate in the FIT Innovation Spotlight Series. We appreciate both her insights and the candidness with which she shared them; we hope everyone reading this was just as enlightened as we were.