Innovation Spotlight: Interview with Deidre A. Harrison, Deputy Controller, Office of Management and Budget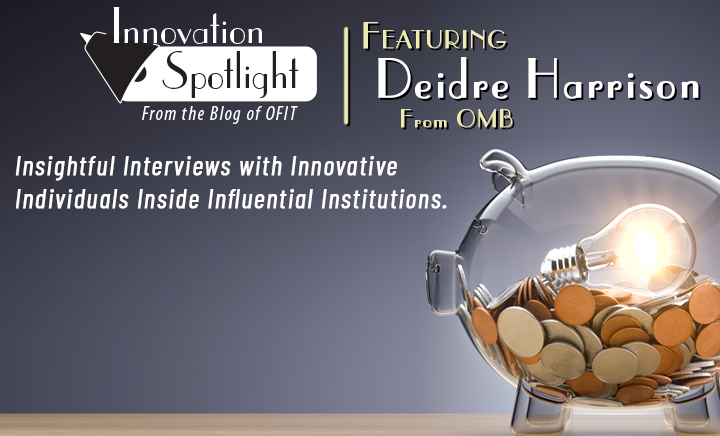 Welcome to the second installment of our Spotlight Innovation Series: a series of blog posts aiming to highlight the perspectives of innovative leaders across the Federal Government to the financial management community, inside and outside the federal government. Each month, we'll sit down with an innovative leader, pick their brain on their transformative experiences, and share those insights with our blog readers.
Deidre A. Harrison, Deputy Controller, Office of Management and Budget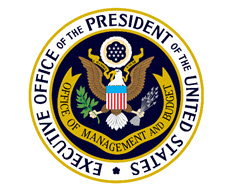 Deidre Harrison serves as Deputy Controller in the Office of Management and Budget (OMB), where she supports the President's Management Agenda and other Administration priorities. Ms. Harrison also oversees the Office of Federal Financial Management portfolio, which issues government-wide policies. Prior to these roles, Ms. Harrison served as a senior examiner in the Treasury Branch at OMB, before which she worked at an economic consulting firm as an economist. Ms. Harrison holds an undergraduate degree in International Politics and Economics from Middlebury College and a Master's degree in Public Policy from the Harvard Kennedy School of Government.
What is innovation?
Deidre organizes her definition of innovation categorically. To Deidre, innovation "is an attempt to get to more efficient and effective outcomes." How that is reached can vary depending on the need. At its core, innovation can be creating something new, or "adapting something you're already doing [but] in a new and creative way." She applied this principle across various organizational levels. For example, an innovation can be a targeted solution to a small-scale problem, or it can be a large enterprise-wide change of business.
What are some examples of this kind of innovation?
When asked for notable examples, Deidre highlighted various exciting projects happening within Treasury in collaboration with other agencies. Specifically, the Bureau of the Fiscal Service's Payment Integrity Center of Excellence, and the work that the office is doing with the Federal Emergency Management Agency as an example of adapting a process to fit a new solution. She also noted Fiscal Service's Do Not Pay services, crediting the program as forward-leaning in developing a consulting-style shared services model for other agencies.
One focal point in the conversation with Deidre was the learning aspect of innovation, for example, the COVID-19 response and the needed- often emergency- innovation work that took place over the last year. For example, the Restaurant Revitalization Fund through the Small Business Administration to aid business that had been impacted by the pandemic, or simply standing up services to send money to individuals in historically under-banked communities. We've learned a lot from the speed at which programs were stood up in 2020 and 2021, which happened at an unprecedented rate to combat the crisis.
What areas might benefit from this approach?
First and foremost, she stressed the need for meaningful progress towards a federal program inventory, which will require innovation in data transparency and automation. The use of distributed ledger technology and artificial intelligence, both already in isolated use across the federal government, also peak Deidre's interest as technologies that could be implemented to make processes across the Federal financial management community more efficient, but will require further investigation into how to best use them. "Not knowing," she tells us, "is an equally important part of the innovation process," as it allows space for meaningful questions to be asked.
On risk aversion and innovation
Although it is true that learning and not knowing are integral to the innovation process, Deidre wants us to caution against getting stuck in the "pilot phase" of projects and never going into production, which she sees as a trend across the government. When asked why she believes this is the case, Deidre compared her former career in the private sector to the work she has done in the federal government. In the private sector, money can be used to solve problems in ways that the federal government cannot; this makes the testing phase in federal innovation a higher priority, as the stakes of failure are so much larger. "We [as the government] are risk averse," she tells us, "but that is not necessarily a bad thing when there are taxpayer dollars at stake that we have to protect."
When asked her opinion on how we could possibly change risk aversion to move successful pilots into production, Deidre frankly told us that she didn't have the answer – nor did she think there was one easy answer. The first step she identified, however, was to involve as many people as we can, to boost learning, collaborating, and decision-making, so that when the pilots move into production, we are as sure as possible that they will succeed.
Advice for the federal financial community
As our time with Deidre ended, we asked one final question: What advice do you have for other members of the federal financial community? She emphatically urged us all to continue asking questions: "Innovation is important, and while it's hard, to keep making progress we need to keep asking questions." This is what allows us to understand what needs to be improved. "Anyone interested in helping to change the federal government should continue to ask questions," she continued, "When we stop asking questions, innovation will stop."
She chose to end her advice with age-old wisdom, encouraging us all to apply it to both innovation and our personal career goals: "You will miss if you don't take the shot – don't be shy. At least try! We can't do something if we don't at least try."
We would like to thank Deidre once again for her time and willingness to participate in the FIT Innovation Spotlight Series. We appreciate both her insights and the candidness with which she shared them; we hope everyone reading this was just as motivated to ask questions and enact change as we were.