Electronic Check Processing
Electronic Check Processing (ECP) is a systematic method used to convert paper checks into Automated Clearing House (ACH) transactions or Check21 items via a lockbox network or a mobile application. ECP is a web-based client facing application that acts as a data and image repository. ECP is used by federal government agencies and their financial agents to view and research transactions.
Log In to ECP
How Does ECP Work?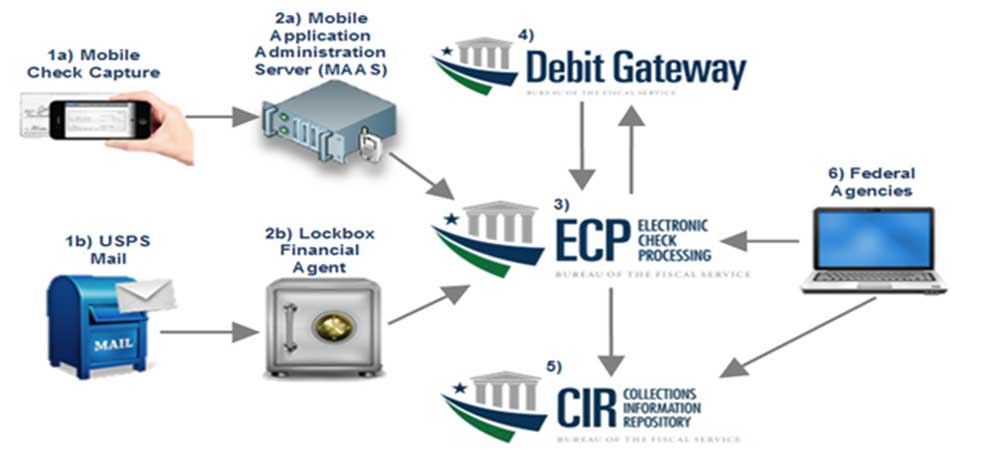 Delivery of Incoming USPS and overnight mail or Mobile Check Capture.
Lockbox Financial Agent (FA) verifies items according to specification, completes data capture and scans checks/remittance images. Mobile app server aggregates data and creates ECP files. Lockbox FA and Mobile application server transmits payment/remittance data and images to ECP.
ECP stores images/data and generates reports. Financial items and images are sent to the Debit Gateway (Bank of First Deposit). Items are forwarded to Collections Information Repository (CIR) for settlement and returns.
Debit Gateway processes payments for settlement via Check 21 or ACH and sends settlement/return data back to ECP.
CIR - ECP Settlement and Return Data are available in voucher and financial transaction reporting.
Agencies may login to ECP to retrieve reports/images or login to CIR to view reports and deposit information.
Benefits of ECP
Accessibility: Agency users have direct access to the status of every item being processed from the moment it is received in ECP. Web based application is available 24 hours per day, 7 days per week.
Efficiency: Facilitates conversion of paper checks into ACH or Check 21 transactions. Accelerates high volume collections and reduces fund collection costs. Improves internal controls through the use of automated reports. Improves data capture, accuracy, timing. Accepts lockbox and mobile check capture transactions.
Research/Reporting: Several reports offer a detailed look at agencies transactions and history. Provides detailed information regarding remittance and/or check image documents.
Security: Resides on the Treasury Web Application Infrastructure (TWAI). TWAI is a highly secure environment.