Treasury Collaboration and Team Effort Create Lower Check Volumes at the Federal Aviation Administration
The mission of the Federal Aviation Administration (FAA), Department of Transportation is to provide the safest, most efficient aerospace system in the world. To meet its mission, the FAA airport organization must consider economics, environmental compatibility, local proprietary rights, and safeguarding the public investment. It's a big order that requires partnership with other federal agencies whose main competencies involve a similar mission.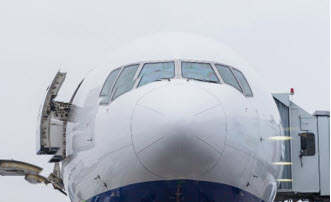 Economics is where the Bureau of the Fiscal Service, Payment Strategy, and Innovation team (PSI) steps in and lends its experience and knowledge about data analysis and targeted messaging. The FAA is another example of how a federal agency is taking up the gauntlet and working industriously to lower their check volumes.

In Fiscal Year 2020, the Bureau's Agency Priority Goal (APG) team noticed the FAA had disbursed a total of 11,877 checks. The Enterprise Services Center (ESC) of the FAA breaks their check production into the following categories:
Utility payments – 10,135
Fee Collection System (Registry Fees) – 1,051

Lease payments – 626
Other – 65
In January '21, the Payment Strategy and Innovation team met with the Enterprise Service Center to start discussions about increasing the Federal Aviation Administration's Electronic Funds Transfer (EFT) payments. Armed with the directive to Increase the electronic payment rate for Treasury-disbursed payments to 96.56% by the end of FY 2023, the team brought along its data analysis and targeted messaging tools.
The FAA team of three: Robin Nowakowski, Manager (FAA Admin Payments) and Debbie, McDonald, Manager (Payments Previewing/Sweeping) and Heather Scott, Manager (Administrative Payments Branch) came together with FAA and ESC Executives to implement a strategy that increased FAA's electronic payments.
From the meeting, the ESC implemented a four-pronged focused strategy.
ESC is committed to contacting the largest volume of check recipients to persuade them to switch from check payments to Electronic Fund Transfer (EFT) payments. ESC Accounts Payable (AP) team established a tiger team specifically dedicated to the project. The team members communicated with the points of contact in SAM.gov to see whether the company could switch to EFT payments. All utility vendors were contacted within 45 days and by April 2021, 45 percent of those vendors have switched to EFT. (check metrics for last quarter are presented below.) More vendors expressed interest in switching to EFT once they upgrade their computer systems or business processes. The tiger team followed up with those vendors again in 1st Quarter FY22.

UTILITY CHECK REDUCTION

| FY '22 | Utility Check reduction since baseline start (875/mo.) | Total Utility Payments (check+EFT) | Total* Utility Checks |
| --- | --- | --- | --- |
| Oct | 61% | 6222 | 344 |
| Nov | 56% | 6907 | 381 |
| Dec | 52% | 7346 | 418 |
| Jan | 60% | 6717 | 348 |
| Feb | 64% | 6630 | 319 |
| Mar | 52% | 8248 | 420 |
| Apr | 54% | 7120 | 400 |
| May | 57% | 7396 | 374 |

ESC Financial Services Executives reached out to the FAA Registry to discuss the Fee Collection System check disbursements. The Registry is upgrading the Fee Collection System with plans of using credit/debit card transactions to end paper check processing in the platform. The new system is expected to be implemented in Fall 2022.
FAA Lease payments developed new business processes last fiscal year that encouraged lessors to register with SAM.gov and provide banking information at registration so payments would be electronically disbursed. Real Estate contracts also include electronic payment clauses in new lease agreements to further the electronic payment initiative.
FAA will continue to encourage and require electronic payment methods in contractual clauses. FAA will communicate periodically with those vendors getting check payments to encourage them to transition from check disbursement to electronic payment methods.
Heather Scott commends the Fiscal Service's Agency Priority Goal team for their support in providing beneficial data analysis of FAA check and electronic transactions.Also, FAA was able to develop their vendor contracts using specific targeted electronic language. Heather recounts the team effort, in appreciation of the APG check-ins where communication and ideas flowed. Heather also applauds "the support from executives at the FAA and ESC, as it was crucial in fostering the collaborative space that attributed to the team's overall success."